Do you want to have Balloon Surprise in Pune? Are you looking for Surprise setup in Pune? Or what to spend a romantic night with your partner on his/her special night?
If yes, We are here. Big Day Surprise brings to you Balloon Surprise in Pune package for your partner.
Now you can plan and customise your balloon surprise with cake, bouquet, I love you foil balloons, Candles, rose petals and much more
Big Day Surprise brings to you surprise packages which include setup and delivery at your venue. Some of the packages of Balloon Surprise by Big Day Surprise
Best Packages by Big Day Surprise for Balloon Surprise
Are you excited to give your partner a balloon surprise at home?
Want to surprise your partner on his/her Birthday Night? Or, you are looking to get a private setup for your evening. Are you looking for Balloon Surprise at Home?
How will it look like?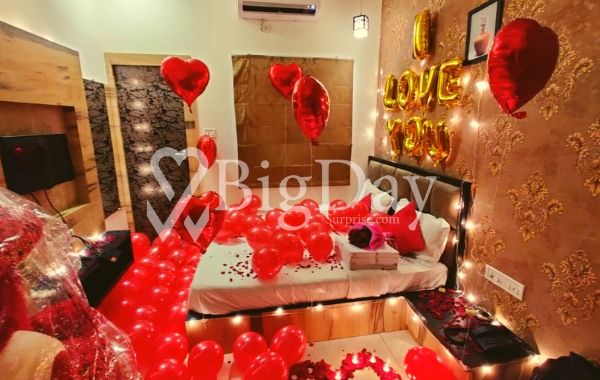 Well, you must be wondering how will it look? Isn't it exciting to have a balloon surprise with 200 Balloons on Floor? Out of 200 Balloons 50 Balloons at Ceiling with removable tape. Rose Petal Decoration on the floor and on the bed. Golden light Series on the wall with Happy Birthday or Happy Anniversary Banner.
Our artist will take 2 hours for any type of setup. Meanwhile, we also bring some of the best planning support. Moreover, we have amazing add-ons for your celebration. You can go with aromatic candles all over, gifting him/her, cake, chocolates, love notes, pictures of pictures, message foil balloons, etc.
Inclusions
200 Balloons ( Including 50 Balloons on the ceiling with ribbons)
Non-Helium Balloon attach with Ceiling
12 Photos Attach with Ribbons
Delivery and Setup Charges
All-Inclusive Charges
Need to Know Points
All balloons are air-filled balloons. We do not use the helium balloon as they can be hazardous for health.
Setup will depend on room, like room size, interior or color of the balloons.
You can opt for balloon color- Red, White, Golden, Black, Purple, Yellow, Pink.
Set-up will take 2 hours time, we highly recommend choosing the time slot as per as your surprise arrangement.
Our team will be in touch with you either on call, WhatsApp or mail.
You can transfer your photos on booking@bigdaysurprise.com
Please arrange any stool or ladder for our decoration vendor.
We highly recommend to remove balloons from the ceiling the very first next day, to avoid any type of damage.
Balloon Surprise Box
Aren't you much expressive towards your partner? Want to convey a message to him/her? This is perfect for you. Therefore, Big Day Surprise has bought up a Balloon Surprise in Pune, just for you two. Moreover, it brings up an opportunity to create memories with them.
Big Day Surprise will send this special gift-wrapped box, which when opened will have a flurry of cute balloon flying out. This box will have helium balloons. You can express yourself, convey your message and surprise your loved one with this unique gift greeting made through customizations. Another customization is available at your choice like the color of balloons, etc. We can coordinate with you to add more gifts to the box – can be discussed on the phone.
Some of the well-liked themes are
I Love You" / "Will you marry me": Proposals are confusing and tricky, they need to be created with timely perfection. A ring hidden inside the box or a message to express your feelings is definitely a way to get a "YES" as an answer.
"Happy Birthday": Want to surprise your loved one by wishing them in a unique way? The surprise box is a perfect gift! With balloons flying out as soon as the box is opened it is sure to make them feel extra special.
Therefore, you can be expressive at any moment of your like. We like to deliver this surprise box at your doorstep, seeking your convenience. This Balloon surprise box is unique plus amazing. We are sure your partner is going to love it. After all, we too provide amazing add-on's inside it. You can opt for them. Making addition like a bouquet of flowers, cake and chocolates, a love note, lots and lots of gifts, etc.
Inclusions
2*2 ft gift wrapped box
10 to 12 Helium balloons
Greeting card with personalized messages
Need to Know
Please open up the box within 2 hours of delivery or the balloons might not fly out as balloons lose their pressure over time
Experience can be curated for girlfriend, boyfriend, husband, wife, kids, parents & friends – messages and balloons will be tailored for the surprise
Delivery will be coordinated after the booking
Gift box contains 10 to 12 balloons and a greeting card with a message
Zero cancellation charges 48 hours before experience. 10% charges till 12 hours to experience and case to case basis charges for last-minute cancellations
Gift Box can accommodate any combination of chosen customizations
Having excitement on your partner's birthday? Want to awestruck them? Gifting them a beautiful Balloon Surprise decoration at home will amaze them.
Moreover, Birthday is the celebration of joy and happiness. As a result, people constantly pay a visit to the calendar to remember how many days are left for their birthday.
Your partner would be wondering what surprise you are planning for them. And so you want them to remember it forever. And make them feel special. Are you facing trouble in arranging one in your city? Don't worry, we have covered you. Make your loved one feel like a prince/princess on their special day by getting your balloon surprise decorated.
It would be fun to see your loved one pleasantly surprised and flattered. When they accidentally walk in and see a huge surprise on this special occasion. They'll glow in wonder.
How will it look like?
How will my ballon surprise decor look like? About 40-50 balloons will be hanging from the ceiling with nice ribbons and about 150 on the floor or in the form of bunches! You can schedule a Big Day Surprise decoration artist to visit your house in the chosen (2 hours) slot. We have slots spread from morning to late evening – see what works best for your surprise. The decoration artist will discuss the exact decoration with you and tailor it to your taste and your room.
Similarly, the ceiling balloons are stuck with removable soft tape (tapes with less gum). We don't use Helium balloons for safety reasons. And post your celebration, whenever you want to remove the balloons, just pull their ribbon – in general, the balloon will come off without leaving any mark on ceiling (we recommend removing balloon within next 24 hours), however, it is always better to be sure if your paint type is right for such decorations.
These decorations will create a festive ambiance, perfect for an unforgettable celebration. Similarly, you can opt for your convenient location. Say about your bedroom, drawing room, hall, etc.
In addition, you can go with some theme birthday decorations. Like, balloon surprise, dreamy birthday with lots of fairy lights, a colorful celebration, Glow in the dark by selecting neon balloons, Champagne party, umbrella decoration, balloon blast, etc.
Customizations
What's more? You can have a bunch of customization. We've covered in your city. Customize to enhance your birthday decor at home with balloons.
You can choose to have photo strings with a set of the photo, a bucket of blooming roses, a goodie crate containing one Nutella jar, a packet of strawberries, an artificial bouquet, 2 aromatic candles, a bottle of fiesta and 2 serving glasses! Just check out our customization below! You can also choose to add a happy birthday bunting, message helium balloons, a personalized banner, a 4 feet tall teddy bear, a delicious half kg eggless cake, and much more!
Inclusions
200 balloons (not helium) decoration with ribbons at your location.
Delivered to your home in your city.
'Happy Birthday' Foil balloons (silver/golden on the wall).
'Whiskey' and 'Champagne' foil balloons (1 each).
1 fairy light for Home Decoration on Birthday.
Set of silver and white balloons.
Need to know
Your address & any other personal preferences will be taken after your booking.
The tape will be used in the decoration to place balloons on the wall/ ceiling (we recommend you remove cello tapes immediately after the celebration to avoid chipping of paint).
Please arrange a stool or a ladder in case balloons are to be placed on the ceiling.
Please add 'Themed bunting' from add-ons as it is not part of the base package.
Surge is applicable for same-day bookings.
Helium balloons are not a part of a package. You can add them from add-ons.
Add customizations for a more loaded birthday surprise!
One way to make kindness come alive in your relationship is by surprising your partner for "no reason at all". Customize I Love You Theme at home, in your city. How worthful it will look to see a theme decoration to your partner. Taking this extra step you articulate that the primary relationship in your life is important.
How will it look? Around 150 Balloons all over room along with rose petal decoration and candle making it more beautiful.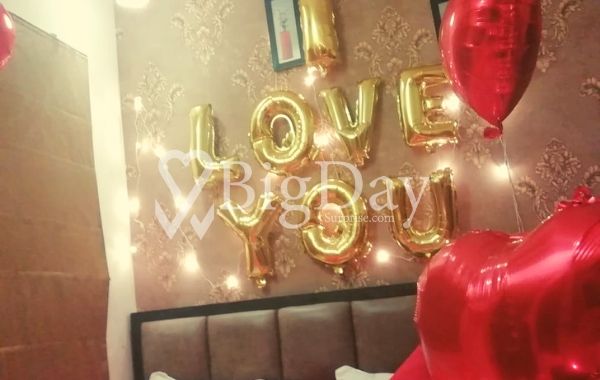 Inclusion
I Love You Foil Balloon
150 Balloon
4 Heart Foil Balloon
Rose Petal Decoration
Candles
4 Heart Helium Balloon
All Taxes Included
Customization / Add-ons available for I Love You theme decor
Helium Heart Balloons – Customize your surprise with Helium Heart Balloons to make it more romantic. 4 Helium Heart Balloons in Room placed as shown in Picture.
I Love You Foil Balloons – You can add on special message on I Love You foil balloons to make your partner happy.
Rose Petal and Candles – Surprise your loved one with Rose Petal and Candles decoration to amaze your loved ones. It's worth going over the top.
Need to Know Points
All balloons are Hydrogen/Helium Balloons.
Setup will depend on room, like room size, interior or color of the balloons.
You can opt for balloon color- Red, White, Golden, Black, Purple, Yellow, Pink.
Set-up will take 2 hours time, we highly recommend choosing the time slot as per as your surprise arrangement.
Our team will be in touch with you either on WhatsApp or mail.
You can transfer your photos on booking@bigdaysurprise.com
Please arrange any stool or ladder for our decoration vendor.
We highly recommend to remove the decoration from the ceiling and wall the very first next day, to avoid any type of damage.
Why Big Day Surprise for Balloon Surprise in Pune?
Big Day Surprise is an e-commerce event organizing team. Especially working to make your event memorable. Our team can help you to decorate your room for a birthday or anniversary surprise.
Our team serving in Bangalore, Pune, Mumbai, and Indore. We have our head office at Bhopal where we maintain high privacy for our customers.
Big Day Surprise has lots of creative ideas for birthday and anniversary surprise. Our Balloon Surprise in Pune packages are designed with budget and decoration for every category.
If you are looking to celebrate in low but classy decoration our team customizes your booking. Above all our setup vendors are the best decorators from the city. We do work on customization given by our customers. In other words, we are a planner for you plus- your customized setup team too.
Where Big Day Surprise Can setup Decoration?
Big Day Surprise can setup decoration at your house or hotel room. For the Hotel room, you have to take prior permission from the property. book a room by Big Day Surprise you can ping us with Hotel Room Decoration inquiry. Decoration requires 2 hours for set-up. Inclusion is available that you can opt for.
What are the hotel room policies for Decoration?
Wondering how it will work with hotels, your privacy? No worries, Big Day Surprise has a tie-up with some of the OYO Rooms and Fab Hotel Rooms. We maintain high privacy for our customers. Hotel Policies are to be clear as they allow 18+ Age. While some allow Married and some allow Unmarried Couple.
How you can plan a Birthday decor at home?
Are you looking for Birthday surprise in Pune? Why to search more if you have the amazing packages of Big Day Surprise. Moreover its planning and customization as Birthday decorators in your own city.
We believe in planning as customers requirements . We make sure about the props to be used for the occasion. Big Day Surprise allows you to choose predefined packages too.
Balloons Decoration for Birthday in Pune
Are you throwing any party or want to décor on birthday for your loved ones? Isn't it amazing to decorate the party/room with the colourful balloons ? But confuse about balloon decoration. So, Big Day Surprise can help you build your beautiful memories with your loved once.
A room/hall filled with 200 approx. balloons on the floor, 50 balloons attached to the ceiling with removable tape, Balloon decor on the sidewall. Meanwhile, our artist will make all the setup, you enjoy with your partner on their special day.
Candles and Roses Decoration ( Add On's)
Candles and Red flowers are the symbols of love. A pathway of red rose petals from the door to the bed. Aromatic candles in the room. Both giving most romantic and aromatic ambiance. This will make your partner feel so special and he/she will get head over heels. Moreover we can create beautiful garland with red roses and can suspend it on your bed.