Cabana Candle light Dinner at Home is the best setup to surprise your partner on his/her birthday or anniversary.
Have you ever thought to surprise your partner with cabana candle light dinner at home? If yes, then Book your surprise with Big Day Surprise now.

Cabana Candle Light Dinner Surprise is one of the best setup for your romantic evening. It is one of the best surprise package for birthday, Anniversary, or any special day.
Send your partner for grocery shopping or at friends home for two hours. When they come back, surprise them with candlelight setup at home.
Plan and Customise your surprise to build memories and cherish experience which will bring long last.
Cabana Setup will include a cabana with fairy lights series at its border. A rose petal pathway to make setup more romantic with candle at the edge of the pathway.
Foil Love Balloon will be placed on dinner table. Dinner table is decorated with Rose Petal and Candle for alluring evening dinner.
You can customise your Surprise with lots of props like balloon, helium balloons, foil balloons, Message with rose petal, gifts, champagne, cake and bouquets etc.
Big Day Surprise Cabana Candlelight Dinner at Home is available in Bangalore, Indore, Mumbai, and Bhopal.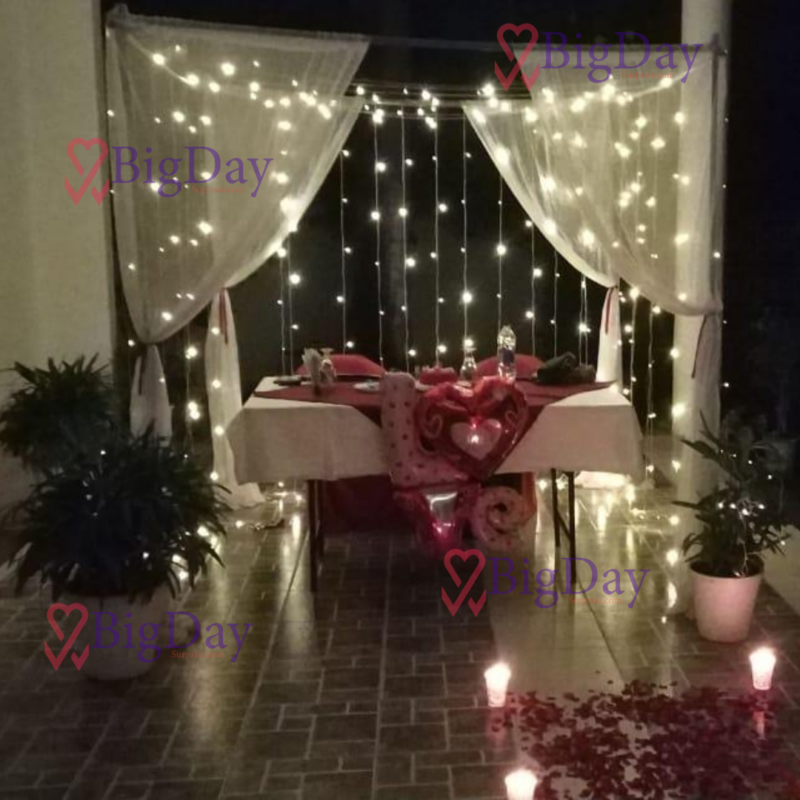 Inclusion – Cabana Candle Light Dinner at Home by Big Day Surprise
Cabana Setup at Home
Rose Petal Pathway
Candle Pathway
Balloon Decoration
Foil of Love Balloon
Fairy Light Setup
30 Red Heart Balloon
All Taxes Included
Set up and Delivery Included
Customise your Surprise with Add On's Like
Bouquet
Balloons
Red Heart Helium Balloon
Balloon Surprise Box
Happy Birthday Foil Balloon or Happy Anniversary Foil Balloon
Gifts for your Partner
Table Decoration and more
Want to book Cabana Candlelight Dinner at Home setup with us?
Ping us on +918770386205, For any enquire you can WhatsApp us on +918770386205.
Email us on admin@bigdaysurprise.com