Want to book OYO room to add sparkle in your celebration? Give your partner a stunning surprise with the OYO room at Bhopal.
Above all, the Oyo room is best for couples. You can make your celebration complete with Big Day Surprise. The occasion may include decoration like birthday, anniversary, romantic proposal, a theme like I Love You, Valentine's day, etc.
If you are one who wants to astonish their partner by some romanticism, Oyo rooms are perfect. Our decor team helps you in arranging the event. Moreover, we also add more pleasure by adding customization. Our Customization includes rose petal pathways, aromatic candles, golden fairy lights, love notes especially personalized for you, some gifts, chocolates, a bunch of fresh flowers, etc.
Make your experience the best with Big Day Surprise.
Why Big Day Surprise for Oyo Rooms in Bhopal?
Although, Big Day Surprise is an e-commerce event organizing team. Especially working to make your event memorable. Our team can help you to decorate your room for a birthday or anniversary surprise.
Our team serving in Bangalore, Pune, Mumbai, and Indore. We have our head office at Bhopal where we maintain high privacy for our customers.
Big Day Surprise has lots of creative ideas for birthday and anniversary surprise. Our packages are designed with budget and decoration for every category.https://bigdaysurprise.com/valentine-gifts-in-bhopal/
If you are looking to celebrate in low but classy decoration our team customizes your booking.
Above all, our setup vendors are the best decorators from the city. We do work on customization given by our customers. In other words, we are a planner for you plus- your customized setup team too.
Oyo Room policies for decoration set-up
Are you doubting your booking for the OYO room? Wondering how it will work with hotels, your privacy? No worries, Big Day Surprise has a tie-up with some of the OYO Rooms and FabHotel Rooms. We maintain high privacy for our customers. Hotel Policies are to be clear as they allow 18+ Age. While some allow Married as well as Unmarried Couple.
Packages by Big Day Surprise at Oyo Rooms in Bhopal
RED CUPID DECORATION
Are you a romanticism kind of person?
Want to have an erotic love experience with him? Big Day Surprise brings Red Cupid Decoration this valentine's Day. Customize it at Oyo Room. Explode your romance with this cupid decoration. It is filled with a red theme symbolizing romance and love.
Imagine how will red cupid decor look like? Around 50 Balloons are stuck with removable tape on the roof. About 150-200 balloons are spread over. Rose petal pathway with foil letter balloons.
Inclusions are
50-70 Helium Balloons
4 Heart Shape Foil Balloons
ALWAYS foil Letter stick with Removable Tape at Wall
Love Cursive Foil Balloon on Bed.
Rose Petal Heart on Bed
Setup Charges at Oyo Room
All-Inclusive Charges
Customization is available like message foil balloon, scented candles and fairy lights with rose petal touch all over. Add cake and chocolates to make your celebration more wonderful. Your partner will be awestruck by this amazing surprise.
Set-up will take 2 hours time, we highly recommend choosing the time slot as per as your surprise arrangement. Our team will be in touch with you either on WhatsApp or mail. You can transfer your photos on booking@bigdaysurprise.com
At Oyo Room, we maintain the high privacy of our customers.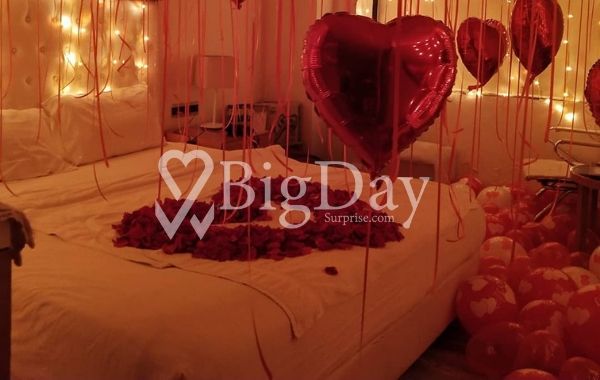 HAPPY BIRTHDAY WALL DECORATION
Having excitement on your partner's birthday? Want to awestruck them? Gifting them a beautiful birthday wall decoration in the Oyo room at Bhopal.
Moreover, Birthday is the celebration of joy and happiness. As a result, people constantly pay a visit to the calendar to remember how many days are left for their birthday.
Your partner would be wondering what surprise you are planning for them. And so you want them to remember it forever. And make them feel special. Are you facing trouble in arranging one at Bhopal? Don't worry, we have covered you. Make your loved one feel like a prince/princess on their special day by getting the Oyo room decorated.
It would be fun to see your loved one pleasantly surprised and flattered. When they accidentally walk in and see a huge surprise on this special occasion. They'll glow in wonder.
How will it look like?
How will my decoration look like? About 40-50 balloons will be hanging from the ceiling with nice ribbons and about 150 on the floor or in the form of bunches! You can schedule a Big Day Surprise decoration artist to visit the Oyo room in the chosen (2 hours) slot. We have slots spread from morning to late evening – see what works best for your surprise. The decoration artist will discuss the exact decoration with you and tailor it to your taste with the Oyo room.
Similarly, the ceiling balloons are stuck with removable soft tape (tapes with less gum). We don't use Helium balloons for safety reasons.
These decorations will create a festive ambiance, perfect for an unforgettable celebration. Similarly, you can opt for your convenient Oyo room location, nearest to you.
In addition, you can go with some theme birthday decorations. Like, balloon surprise, dreamy birthday with lots of fairy lights, a colorful celebration, Glow in the dark by selecting neon balloons, Champagne party, umbrella decoration, balloon blast, etc.
Inclusions
200 balloons (not helium) decoration with ribbons at the Oyo room.
Organized at the Oyo room nearest to you.
'Happy Birthday' Foil balloons (silver/golden on the wall).
'Whiskey' and 'Champagne' foil balloons (1 each).
1 fairy light for Oyo Room Decoration on Birthday.
Set of silver and white balloons.
Customizations
Aromatic candles
Rose petal pathways
Picture of pictures
Mapping Star for your dearest one
Chocolates
Cake and flower bouquet, etc.
ANNIVERSARY DECORATION AT OYO ROOM
Anniversary is something every couple strives to fill it up with celebrations and happiness. Above all, it is necessary for a healthy relationship. Are you looking for an anniversary surprise in Bhopal? Moreover, getting difficulty in arranging a surprise for your partner? However, Big Day Surprise brings thoughtful and creative surprises in Bhopal just for you. Make your partner wonder in awe by throwing surprise at Oyo Room on your anniversary. Similarly, you can customize it by making add-ons.
A romantic surprise has a big impact on your relationship. For instance, we make decorations according to the package so chosen. In addition, you can opt for a love note message for your partner. As a result, convey your romance to your partner by doing the sweet gestures on this anniversary. Lastly, We cater to render service at your convenience.https://bigdaysurprise.com/anniversary-surprise-in-bhopal/
Conclusion
Similarly, at Big Day Surprise we design our package that suits our customers the best. Our packages are Customer-friendly and pocket-friendly. Having low cost with classy decoration. Above all, we tend to have high privacy for our customers and keep their secrets close. Do visit our page for more queries. https://bigdaysurprise.com