Want to gift your partner picture of pictures? You must be wondering what's a picture of pictures are? Sounds weird. Right? It's not only about a particular picture. The picture of pictures having several small, hundreds of pictures, isn't it interesting? Though constituting a big pretty picture which looks great, and up close you can spend hours looking at the smaller enjoyable pictures. A great designer gift.
Is there any special occasion coming through in your life? And if you have a doubt of what to surprise your partner with. Then, Big Day Surprise brings this amazing gift- Picture of Pictures.
If you and your partner are fond of pictures, then you should definitely go with this wonderful gift. Surprising your partner with such beautiful gift will make them awestruck. In fact, they'll shower more love by seeking such a unique "picture of pictures".
The given picture is below for your reference. You can have how the picture of pictures will look.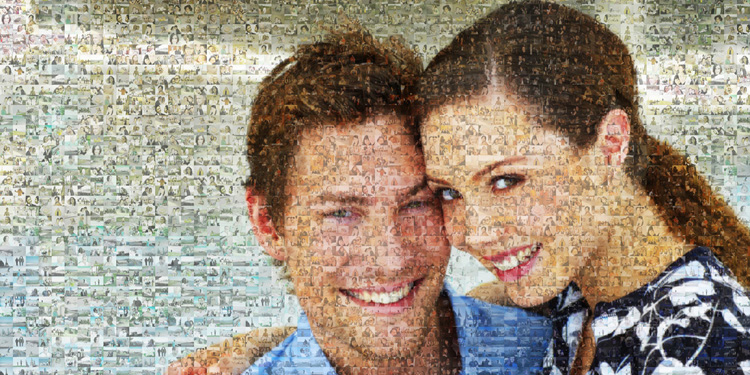 The uniqueness of this gift
A big picture made up of several small pictures
You can put as many as your favorite picture in one frame
A great Designer gift
You get an option to make your favorite couple picture as BIG and creating a frame overall by lots of small pictures
A big canvas frame
Color of the frame: White
How will it look?
There will be a big picture of you with your loved one. Yes, your favorite picture. Imagine, you have so many pictures with your partner in just one frame. You have to book this experience, and then, you will get an email with instructions on how you can upload your pictures. We will need a soft/digital copy of 1 picture that wants to you be the overall big picture and lots (up to 300) small pictures, more the merrier.
We'll then pass all your pictures to our artistic which will frame and design all your pictures in one frame. This artwork is known as Mosiac Art.
Moreover, the picture will be printed on an A3 size (approx 12 inches * 18 inches) big canvas frame as part of the standard package and is great in itself. However, the most popular size is our XL frame (A2 size – approx 20 x 30 inches) and the most majestic of the lot is the XXL frame (A1 size – approx 30 x 40 inches).
Moreover, if you are planning to put this frame in your big living room wall or another long wall of the house, then we recommend the XXL frame. That will suit them best. There are XL and XXL upgrades that can be added on the next customization screen for you.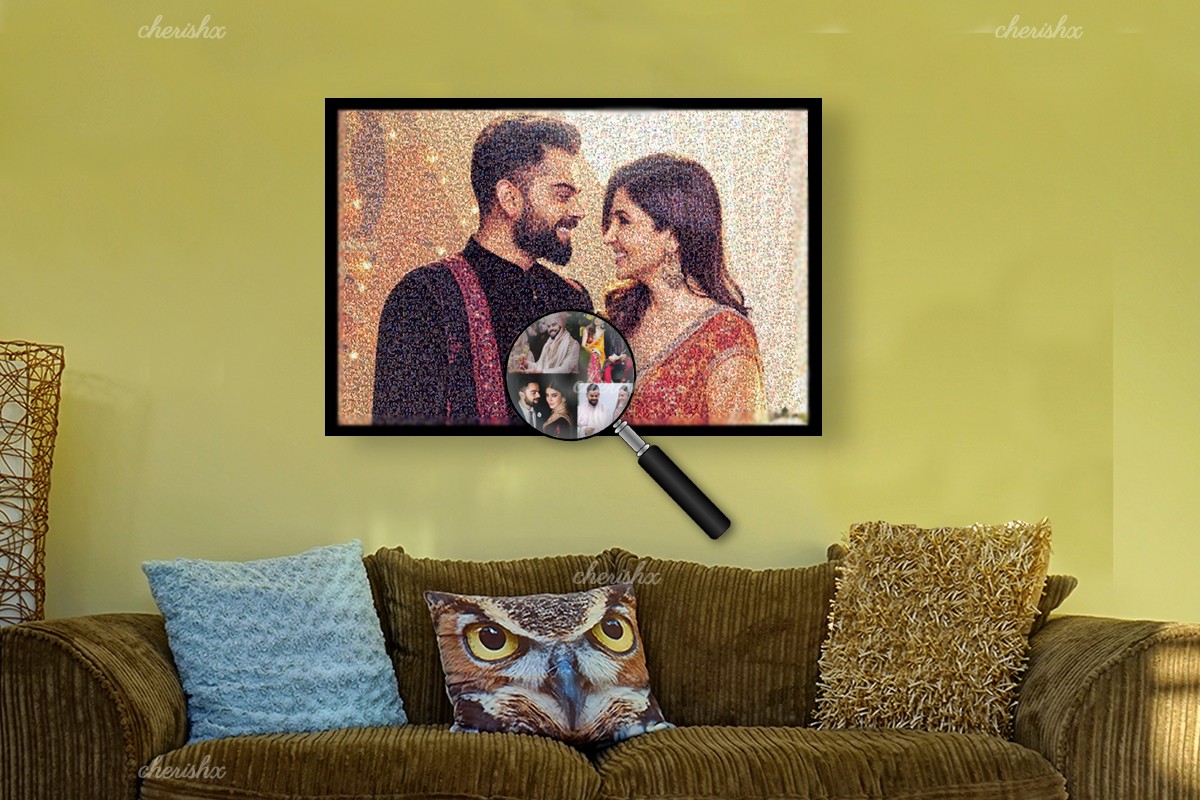 Delivery Process
Above all, the "Picture of Picture" will be shipped at your delivery address in about 4-5 days after the booking.
You can select the 2 days to express delivery customization for accelerated photo designing & delivery. High charges may be applicable.
Similarly, the frame will have a nice cover that has good packaging plus will be delivered to you safely.
Inclusion
Designing: an artistic combination of up to 300 pictures to form a big picture
Printing on A3 (12 inches * 18 inches) canvas
Synthetic wood frame
Delivery by courier
Approval from you of the final design
Need to Know
You can upgrade to our most popular size – XL (approx. 20 x 30 inch) or for really big walls to XXL (approx. 30 X 40 inches) and you will get the picture frame gift wrapped on the next screen
Pictures will be taken after the booking via google drive link shared by you over email
The frame will have a delivery at least 2 days after the pictures are shared
There can always be a few repetitions of the smaller images because of the number of pictures being used to make the larger frames
Pictures will be uploaded in the order form after the payment page.
Data Privacy
Moreover at Big Day Surprise, we keep our customers secret safe, seeking through customer relationships with us.
We keep your secrets are safe with us, along with your personal details, photos and anything else you share.
In addition, All the files you share to customize your order are permanently deleted after the surprise is completed.