How wonderful it will be for your partner to get a dedicated night star map on a special occasion. Does your partner have a huge fascination with stars? Want to surprise her/him with something meaningful? Night Star Map!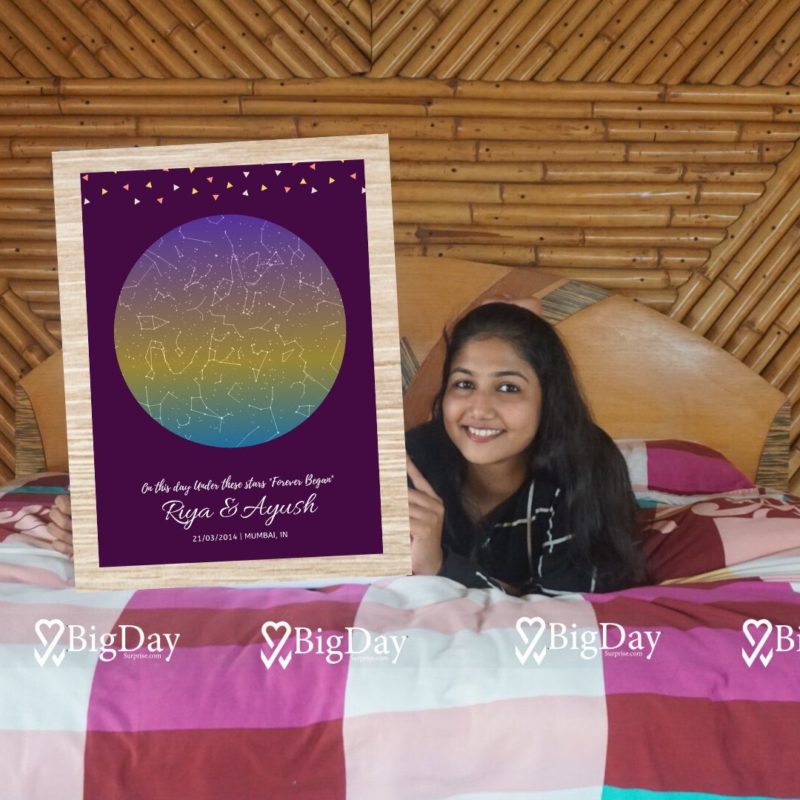 We at Big Day Surprise have really something matchless. A night star map, that you can gift your loved one. A gift that is unequaled and out of the box.
You must be awestricken, what exactly is night star map? The night star map has a personalized certificate with the name of the person and a constellation chart with the location of the star. Isn't is amazing and incomparable to the rest of the things in the world.
Not to hush! Our decor team is expertise. Moreover, you can make this customize according to your wish. Your partner is definitely going to love it as you are naming a star after them. This is just perfect to make anyone awe for a moment.
How will it look?
Pent-up! It's going to be amazing and unique in itself. Must be wondering it looks? Or having doubts about whether to get a star map for your partner or not. You don't have to worry at all.
Just share the name of the person you want to surprise, select the zodiac and a star will be automatically picked for them. Moreover, we have amazing customization in which you can also add your own message to the star chart as well, get pictures uploaded at the sight view of it or else customized a sweet love note or message for your loved one.
The details can be shared in the order form after the payment page. Book your experience with us. Above all, we also maintain high customer relationships. We keep your photos and data safe. We have a privacy policy and after the work is done, we delete your data along with pictures sent by you.
Similarly, we also have a creative package that includes a personalized certificate with the name of the person and a constellation chart with the location of the star. Moreover, if you want to make it look more beautiful, make some add-on's with us. It includes led light decor on the boundary of the star map, etc. However, the frame includes a perfect wooden boundary, that enriches the beauty of the night star map.
The theme of Night Star Map:
As we create a night star map for you and your partner. We also provide you customization in choosing a theme if you wish so. We have a creative theme for all of our products. Therefore, opt for a theme for your night star map. You may go with :
Wedding night star map
A birthday star map with the name of your partner
Anniversary gift star map for your loved one
Valentine's gifting star map of how unique a person is, etc.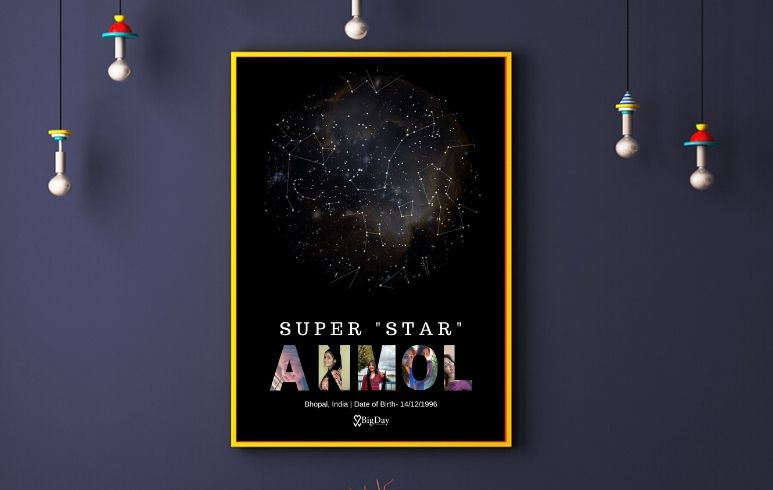 Specifications:
Size of the star certificate and star chart: A4 sheet. Please note that the message you share will only appear on the star chart. Similarly, the photos will be posted outside the frame where special frame lines will be given. For reference, you can see the above photo uploaded for you.
For any further details about this surprise and booking, you can mail us on admin@bigdaysurprise.com, bigdaysurprise@gmail.com and feel free to contact us.
Conclusion:
In the end, you can just ping us on our chat, Instagram or Facebook for any type of surprise idea. Our customer support team will assist you to plan a surprise for your partner in your city.
Want to know more about Big Day Surprise